Nick Punt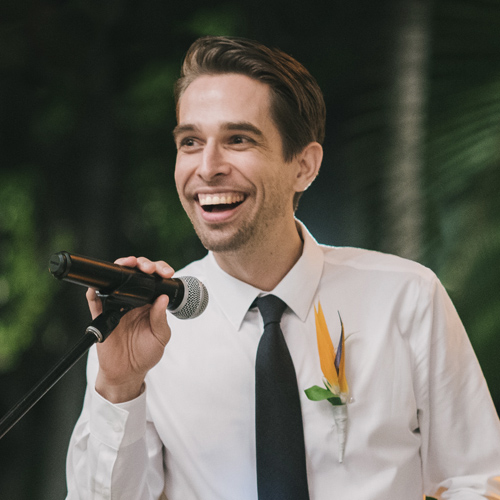 Hi! I'm Nick. I am a product creator (entrepreneur, product generalist, and designer) interested in elevating the human condition. I've just started a search for what my next challenge will be.
You can find me on Twitter, GitHub, LinkedIn, HN, and my name @gmail if you need to reach me.
Interests
I'm passionate about technology's influence on how we think and act. Our technology products are increasingly an extension of our minds, and I believe the approach we take to designing these products will shape our destiny as a species. Specifically, I'm interested the core device OS experience and how that can be designed to positively shape our human OS, helping people think deeper thoughts and reason about more complex ideas with next-gen productivity software, empowering people to live healthier lives through friction adjustments and feedback loops, and improving pro-social behavior and reducing falsehoods through better social media tools.
Skills
I love building and defining product, and consider one of my best skills to be as an integrator of ideas and approaches across disciplines. I'm an applied creative - someone who mixes invention with execution. I always have one foot in the stars, exploring new ideas and looking out for new use cases, technologies, and interesting ways to blend the two to add value. But ideas are meaningless if they're not brought to life, and I equally enjoy the work of building out an idea, finding paths to market, plotting out product plans, and getting my hands dirty with the details of a design.
I've spent almost my entire career in early stage startups between 0-30 employees. I'm most comfortable in the zero-to-one phase where ideas are loose and products need defining. Startups have been where I've been able to make the most of my generalist skillset thus far, from product to strategy, design, marketing, research, finance, fundraising, sales, customer support, and development.
My favorite tools are Airtable, Notion, Obsidian, Sketch, Figma, Notability, GitHub, and Trello.
Career & Background
I began my career toward the end of high school as a video game designer at Pandemic Studios. After a few years I wanted another challenge so I went to UC Irvine, where I focused my studies on Psychology and Biology. My interests quickly turned to research as a way to derive truth and make progress in the world, and I ran an undergrad neuroscience research lab for a year. I learned a lot but preferred the pace of development and camraderie in multidisciplinary product teams, so I went into Stanford's MBA program to learn business and start my own companies.
While at Stanford I focused my studies on entrepreneurship and education technology and also got an MA in Education, hoping to make an impact through the new platforms and possibilities emerging at the time. My timing was off by a few years - this was the era of the iPhone and social networks, so interest in edtech was minimal. I therefore shifted my focus and started a Personal CRM company called Socialfly in 2008, but this effort was quickly eaten by the financial recession. I was finally able to get into edtech right as a new era was emerging, and joined my friend's college social network startup Uversity as the head of product.
Seeing interest growing in edtech but information scattered and unreliable, I founded EdSurge to help the industry coalesce. EdSurge has wound up playing an extremely important role in building the edtech ecosystem and acting as a meeting grounds for educators, technologists, investors, government, and non-profits, and it's the part of my career I'm most proud of.
After some time off, I joined a Uversity alumnus' startup OneSignal, where I ran product and design until 2018. This was my first taste of a more typical high-growth silicon valley tech company, and although building dev tools is not my calling, the experience was a blast.
I then switched gears to the health space and began consulting at Mindstrong, where I helped lead the design & development of a new approach to digitally mediated psychotherapy.
Personal
In my free time I enjoy the outdoors and games. I am involved in a community of storytelling game-makers in the SF Bay Area, and am always cooking up new games to play with friends.
In Bartle's player types model, I'm an Explorer.
I've spent much of my life, especially mornings, trying to be ISO 3103 compliant.
I grew up in Santa Monica, CA in an artistic household. I spent way too much time on BBSes and the internet as a kid, finding my creative outlet in games.
Some of my personal heroes are the naturalist John Muir, astronomer Carl Sagan, and space alien David Bowie.
I'm an appreciator of Apple products and their history as creators of new UI and computing paradigms. I have a decent collection of old Macs from each decade, including my personal favorite the Macintosh SE/30.
Aesthetically I've always found myself drawn to the more minimalist, such as the music of Brian Eno, Danish furniture, and Japanese art, architecture, and interior design. But I love the evocative and whimsical too, as I mature and seek balance across experiences.
I also have a strong interest in the Age of Enlightenment and the growth of reason, tolerance, and liberty it brought about. I love the art, philosophy, and classical music of the era and I like to collect artifacts from around this time, especially the maps from the Society for the Diffusion of Useful Knowledge.
My favorite podcasts include Review the Future, Revolutions, Exponent, Stop Hack and Roll, Hardcore History, History of Rome, Myths and Legends, Writing Excuses, Pivot, Found my Fitness, 99% Invisible, and On Being.
Sites I read include Brain Pickings, Atlas Obscura, Ars Technica, Hacker News, Elemental, and a bunch of other stuff.
About this Site
This site is a love letter to the early days of the web, when personal web pages were fun and quirky. The world is serious enough as-is, we need to make refuges where we can be playful and evocative, and create art for it's own sake. Now that you've made it this far, try typing synth right now to enable synthwave mode 😎. There's also one little secret I've baked in for those dev inclined (hint hint). The site will probably get a bit more fun and interesting as I get more time to work on it.
The blog theme is homegrown. I also rolled my own grid system, in order to emphasize inline asides and a few other elements. It's terribly optimized but poke around the CSS if you're curious as to how it was built.
Acknowledgements
If you enter synthwave mode, the music that plays is Second Reality by Future Crew. The footer image is from here. The synthwave font is Streamster.